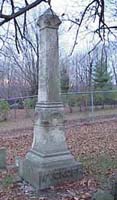 Case Cemetery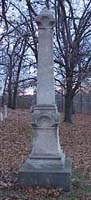 An historic landmark, Case Cemetery, also referred to as the Union Burying-ground, is located in the northeast section of Independence Township. Containing approximately 95 graves, local townspeople buried their dead there from 1836 to the 1950's.

Privately owned it was operated by an association, officers at one time included David Dunn as president, Chester Wyckoff as secretary, and Moses Case as Treasurer.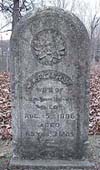 In the 1950's their funding ran out. The cemetery was abandoned, virtually forgotten, and suffered from lack of care. In 1979 the Clarkston Historical Society and Independence Township government began having concerns about its poor condition. On March 11, 1981, the land was declared "vacated" and the Township took over its ownership.

In 1983-4, Independence Township used Federal Revenue Sharing and their own funds to make improvements. They fenced the cemetery, reassembled or repaired broken headstones and laid new foundations for sinking headstones.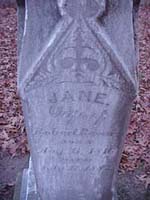 Unfortunately, the original burial records have been lost. The people listed here were identified through the existing headstones, secondary sources, such as newspaper articles, or a 1985 list of headstones.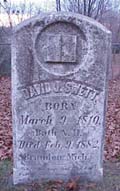 We currently need the community's help to identify the rest of the persons buried at Case Cemetery.

If you, or someone you know, have information, pictures, or documents on Case Cemetery please contact:
Linda Richardson, Independence Township Department of Public Works, (248) 625-8222
Mollie Lynch, Independence Township Library, (248) 625-2212
We are especially interested in locating an original cemetery layout sheet described as a large brown sheet of paper. It illustrates the entire cemetery layout and identifies each grave.
Case Cemetery
(22 Graves identified from an undated list in the Clarkston Historical Society Files)
The lists appear as they were typed. Question marks and possible misspellings were left.
R. Hammond Wife Phebe___ b 3-31-1775 ca d 9-15-1843 aged 68y, 5m, 15d.
William Kile b 8-13-1810 ca d 4-22-1869 aged 58y, 8m, 9d.
David King Wife Phobe ____ b 8-19-1823 ca d 3-31-1848 aged 24y, 7m, 12d.
David Augustus King b d 1846 aged 8m 27 d.
A___P. Losey Wife C___E Co. 1, 14th Mich. Inf., Civil War (on stone)
b 1837 ca d. 2-28-1863 aged 26y.
Drusilla Perry b 2-3-1860 ca d 3-27-1861 aged ly, 1m, 24d
Margaret Perry b 5-9-1797 d 12-25-1857
Isaiah Porter b 9-13-1839 d 1-18-1860
John S. Porter b 12-18-1809 d 1-31-1876
Wife Catherin b 10-5-1808 d 7-25-1862
Whitfield B. Porter b 10-5-1844 d 1-17-1867
Stephen Scott Wife Hannah __b 11-28-1809 ca d 1-4-1871 aged 61y, 1m, 7d
Frederick Shurts b 4-8-1792 d 8-16-1869 aged 77y, 4m, 8d
Benjiman Shurts b 7-24-1835 d 1-16-1882
Wife Charlotte _____ b 5-19-1840 d 10-21-1902
Charles Latin Shurtz b 1867 d 1950
Nellie Shurtz b 1880 d 1954
Abram Struble b 1801 ca d 3-3-1872 aged 64y
Alfred H. Struble b 1821 ca d 5-6-1856 aged 35y.
Sidney D. Struble b 1- -1847 d 2-10-1863 aged 16y, 1m.
David J Swett b 3-9-1800 (Bath, N.H.) d 2-9-1882 (Brandon)
John Wise b d 11-7-1861/4
A list dated May 31, 1985 made by a Clarkston Historical Society officer identified 49 graves. Dates were not included on the list.
Starting north to south:
Unknown
E.W. Pursell
James Ramsey
Jane Ramsey (wife of Robert Ramsey)
Robert Ramsey
EWP (footmarker)
JW (footmarker)
John Wise
Hannah Jane Swett
David Swett
Mary E. Twill (?)
Nellie Shurtz
Charles Shurtz
Benjamin Shurtz
Charlotte Shurtz
William Wyckoff
Hannah Wyckoff
Catherine Wycoff
D J S
Unknow (footmarker) AMS
Unknown (footmarker) AS
John A. King
Mary L. King
Phoebe King
Mary Ann Hammond
Phebe (wife of RH)
Unknown (military)
Margaret Hosner
Mary Losey
Robert Losey
Drusilla Paring (?)
Margaret Perry
Soroel (?) DLS footmarker
Unknown
C. E. Losey
A. P. Losey (civil war)
Betria Cone (wife of William)
Ingersol (?) under tree
William Baldwin
Linn
Daughter of Bingham
Unknown Died 1863 Aged 55
William Kile
D. A. Kile
MG
Frederick Shurts
Hannah M. Scott
Unknown
Unknown